Northampton Greyfriars bus station tower removal delayed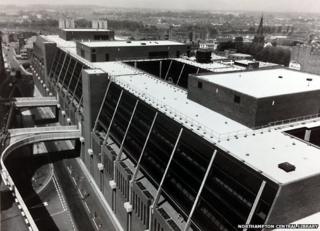 Work to remove part of a tower and bridge at a bus station has been delayed as the "experts decided to change their preparation schedule".
The work, which is part of the demolition of Northampton's Greyfriars bus station and office building, will now take place next week.
Lady's Lane had been due to close at 19:00 GMT, but the work has been postponed until 23 January.
The destruction of the 1970s building will be completed in March.
A Northampton Borough Council spokesman said the change of plan was "just the nature of these types of projects".
He said: "The experts decided to change their preparation schedule."
Work will instead take place to prepare for the demolition of the entire building.
The process of decommissioning and demolishing Greyfriars started in 2013. Tons of material has already been removed in preparation for its demolition.
The bus station was due to be demolished by the end of 2014 but the discovery of higher-than-anticipated levels of asbestos found in the site pushed the date back.
Costing the equivalent of more than £40m today, the building has been the subject of ridicule for decades as an over-ambitious example of bad planning.
It was derided by Channel 4 presenter and designer Kevin McCloud as "like a great big mouth of hell".
The crane will work on the north side of the building to remove part of the tower and bridge.
The rephrasing of the planned works will have no impact on the timing of the overall demolition of Greyfriars.
The road will shut from 19:00 GMT on Friday, 23 January until 18:00 GMT on Monday, 26 January.