Northamptonshire hospitals re-arrange operations amid 'busiest winter'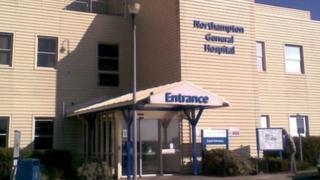 Some routine operations and outpatient appointments are having to be re-arranged at two Northamptonshire hospitals.
Managers at Kettering and Northampton General are blaming the postponements on "the busiest winter ever recorded" in the county.
They said the priority was "to appropriately treat medical emergencies".
Patients have been advised they will be contacted to re-arrange appointments.
The news has come at a time when major incidents have been declared at a number of hospitals in England as medical staff struggle to cope with patient numbers.
Figures out later are expected to show accident and emergency waiting times in England have fallen to their worst level for a decade.
Both hospitals said they had seen increased numbers of patients this winter, many of whom were older with "multiple problems" or people with severe respiratory conditions.
Kettering General Hospital has seen a 15% increase in hospital bed admissions in the past two weeks. This relates to an additional 16 patients needing hospital beds each day.
Over the past 10 days, 2,022 patients have been seen in A&E and 899 admitted to hospital beds.
'Acutely ill'
Chief operating officer Alan Gurney said: "We have opened additional beds across the hospital to allow us to meet the care needs of patients.
"It is the busiest winter anyone can remember and we are treating an unprecedented influx of acutely ill patients who really need hospital care, sometimes for several days."
Northampton General Hospital has seen 2,772 patients in A&E over the past 10 days, including 751 who have required emergency admission.
Chief operating officer Debbie Newham said people should still come to hospital in a real emergency, but should use "every possible alternative".
She said if people could find other arrangements they would be "supporting some of the sickest people" in the community.