Stanley Harrison stabbing: Victim's mother calls killer's sentence 'no deterrent'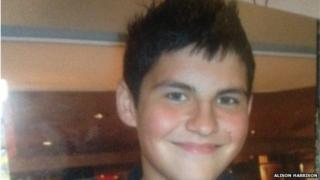 The mother of a teenager stabbed to death by his best friend has called the sentence given to her son's killer "absolutely disgusting".
Stanley Harrison, 17, was killed by 18-year-old Hanaryan Johal in Daventry on 14 June.
Johal was jailed for five years and three months after being convicted of involuntary manslaughter.
But Alison Harrison said the sentence was "no deterrent" and knife killers should get a minimum term of 20 years.
A jury at Northampton Crown Court found Johal, of Newbury Close, Daventry, not guilty of murder.
He had admitted stabbing Stanley Harrison after the pair had spent the evening drinking and taking cocaine.
The jury found the blow was deliberate, but that Johal had not meant to kill.
He is expected to serve half of his sentence, less the time he has already served meaning he could be free in just over two years.
Mrs Harrison said: "Ryan Johal has taken the life away of my son, who had so much to live for, and he gets to do just over two years.
"The sentence should be way longer."
Johal was 17 when he committed his crime, but Mrs Harrison said his age should not come into consideration.
"If you are big enough or brave enough to carry a knife and kill somebody, you know what you are doing, you know what is right and wrong," she said.
"It should be a minimum term of about 20 years."
She said Christmas would be "massively difficult".
"I have not got my boy to share that with and I do not like being around people who have, because it should be me who is a happy family with my boy.
"Johal has taken everything from me, but still has his whole life to live."