Ben Talbot appeal: Leg operation helps boy to sit and stand up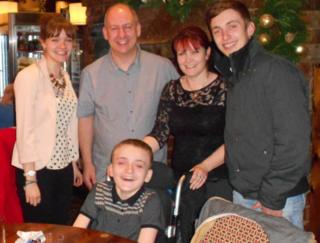 An operation to allow a 15-year-old boy with an undiagnosed brain abnormality to sit and stand up has been deemed a success.
Ben Talbot of Finedon, Northamptonshire, had keyhole surgery on his tendons at St Louis Children's Hospital in Missouri.
The surgery is not available in the UK and fundraising began in February.
His father Paul Talbot said the operation meant Ben would have "a better quality of life going forward".
Ben was only eight months old when his parents noticed he was not holding his head up normally.
Despite being seen by some of the country's top consultants, his condition has not been diagnosed beyond it being to do with a brain abnormality.
Ben's family said he had always relied on adults for all his personal care, feeding and mobility and he also has learning difficulties and no real speech ability.
'Instant results'
He used to have some use in his legs, but as Ben has got older the muscles have tightened, which has made it impossible for him to straighten them.
A invasive tendon operation is available in the UK, but would have meant the teenager would have been in plaster for eight weeks.
Ben's family raised £30,000 to fund the trip to the USA and the operation.
Ben's operation took three-and-a-half hours and had "instant visible results".
Mr Talbot said: "He was never really able to sit independently, but now he can sit on a normal chair for up to 30 minutes."
Ben is also now able to straighten his legs, allowing him to get into a standing position although he still requires support.
The Help Ben Appeal will now turn its attention to raising money for a operation on Ben's spinal cord.