Stanley Harrison stabbing: Hanaryan Johal cleared of murder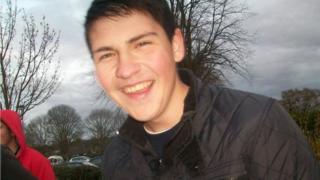 A teenager who stabbed his best friend to death after spending the evening drinking and taking cocaine has been cleared of murder.
But Hanaryan Johal, 18, of Newbury Close in Daventry, was found guilty of involuntary manslaughter at Northampton Crown Court.
Johal, 18, had admitted stabbing Stanley Harrison, 17, but had pleaded not guilty to his murder.
He was sentenced to five years and three months in jail.
'Blind and thoughtless'
Judge Rupert Mayo had asked the jury to consider four possible verdicts: guilty of murder, not guilty, guilty of involuntary manslaughter or guilty of unlawful act manslaughter.
On Wednesday, Johal's defence team told the court his actions had been "blind and thoughtless" but "a million miles from murder".
But Chris Donnellan, prosecuting, said Johal's actions had been "excessive".
He told the court: "There was no need to even pick the knife up, let alone use it."
Johal stabbed the teenager in the neck at a house party in Daventry on 14 June, but claimed he was acting in self-defence.
The pair had been drinking and taking cocaine, but had argued over tobacco, the court heard.
'Cut short'
In a statement, Stanley's family said they believed "jealousy" was the motive for the crime.
"With this verdict, we feel that Stanley has been robbed of his life and now of justice too," they said, in the statement read outside court.
"Stanley loved life and enjoyed it to the full. He did not deserve to have his life cut short in this way.
"We are devastated to have lost Stanley and life will never be the same again."
Det Inspr Louise Hemingway, of Northamptonshire Police, said: "We share the disappointment of Stanley's family that he was not found guilty of murder.
"Ryan Johal chose to arm himself with a deadly weapon following a petty argument that escalated to physical violence. He then killed his best friend.
"The part that drink and drugs played in this tragic incident is hard to quantify, but it is a factor and should serve as a warning to all those who choose to take drugs and alcohol."