Northampton brawl: Ex-MP questions lack of arrests over stabbings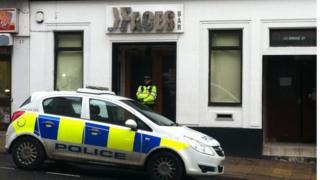 A former MP has questioned why no arrests have been made four days after six people were stabbed in a 60-strong brawl in Northampton.
Tony Clarke said "it is difficult to understand" how the situation was allowed to get so out of control.
The fight on Friday morning took in Faces and NU Bar, on Bridge Street.
Northamptonshire Police said sufficient officers had been on duty and had been at the scene in force, but has not commented on the lack of arrests.
However Mr Clarke, who represented Northampton South from 1997 to 2005 and has worked as a special constable, disputed the force's claim saying policing on the night had "not been effective".
He said: "It makes a mockery of the police and crime commissioner's (PCC) pledge to reduce violent crime.
'Best use'
"When you have such a large crowd there should have been more support given to those officers on duty."
But, Northampton's Operations Commander, Ch Insp Mark Evans, insisted police had not been told about a special event in NU Bar on Thursday night and that a number of people had come to Northampton from London for a pre-arranged evening out.
He said: "Traditionally, Thursday nights are not sufficiently busy in Northampton town centre to justify specific fixed resources, even at this time of year.
"It is not the best use of our resources to have a heavy police presence seven nights a week, just in case."
He added officers had responded within six minutes of the first 999 call.
Eight people were injured during the brawl, with six receiving stab wounds.
Three have been receiving treatment at University Hospital Coventry and five at Northampton Hospital. All are said to be stable.
The trouble started in NU Bar before spreading to Faces and into Bridge Street. Officers have been reviewing CCTV images.
Northampton Borough Council's licensing sub-committee suspended the licences of NU Bar and Faces for seven days on Friday.
Police and Crime Commissioner Adam Simmonds declined to comment.