Stanley Harrison stabbing: 'Accused acted in self defence'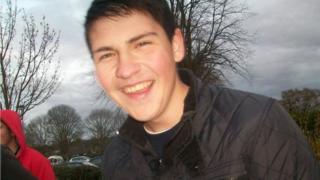 A teenager on trial for the murder of his best friend said he acted in self defence.
Northampton Crown Court heard that Harnaryan Johal, known as Ryan, had thrown his hands up not realising he had a knife in them after being attacked by Stanley Harrison.
Mr Johal, 18, has pleaded not guilty to the murder of Mr Harrison at a house party in Daventry on 14 June.
Mr Harrison, 17, died after being stabbed in the neck.
'Throwing punches'
Mr Johal admitted to the stabbing, but said he acted in self defence.
Chris Donnellan, prosecuting, said Mr Johal had told police Mr Harrison had been throwing punches at him and that he threw his hands up not realising that he had the knife in his hand.
Last week, Mr Donnellan said the pair had been drinking and taking cocaine when a fight started over tobacco.
After the incident, Mr Johal made a video of himself on his phone saying he had "killed my best friend".
The trial continues.