Paul and Sandra Dunham 'greed' cost jobs says company boss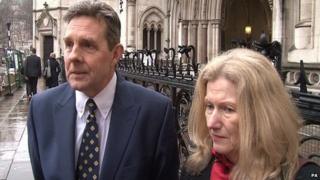 The head of a US firm has spoken of his anger at the "greed" of a British couple who orchestrated an expenses fraud costing "scores" of jobs.
Paul and Sandra Dunham, of Collingtree, Northamptonshire, admitted the $1m (£640,000) fraud and money laundering charges against electronics firm Pace.
They had fought extradition after initially protesting their innocence.
Eric Siegel, president of Pace Incorporated, said his company had "suffered greatly".
The Dunhams spent the money on items including a Barbados timeshare, luxury bedding and a dog sofa, US prosecutors said.
'Achieving justice'
In Maryland on Wednesday, both admitted a fraud conspiracy. Mr Dunham, 59, pleaded guilty to an additional charge of money laundering.
Pace Worldwide has offices in North Carolina in the US and Milton Keynes in the UK.
"Scores of British and American employees lost their jobs because of their greed," Mr Siegel said.
"I am relieved that we are finally getting to the point of achieving justice for our company, but unfortunately justice delayed is justice denied and it has been over five years that it has come to a head like this.
"In that time, and during the time they perpetrated their fraud against the company we suffered greatly."
Mr Dunham held a number of executive positions, including president and chief operating officer and his wife was a sales and marketing director.
Between 2002 and 2009, the pair had charged personal expenses to their corporate credit cards when they worked for Pace.
US attorney for the district of Maryland Rod Rosenstein said: "I feel sad for the friends and supporters who have been misled by the Dunhams' statements."
Mr Dunham's sister Sandra Watts, who has spent the last week in America with the couple, said "They have run out of their money - it is very expensive to stay here."
She added the pair were "emotionally and physically wrecked".
The couple, who will be sentenced next month, have agreed to pay back the money they claimed.