Wollaston recycling centre to stay open as Northants council seeks third party deal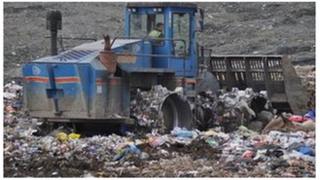 A recycling centre earmarked for closure has been given a reprieve.
Northamptonshire County Council confirmed it had entered into talks with a "third party supplier" to save the Wollaston centre.
The news has been cautiously welcomed by Wollaston Parish Council which had opposed the closure plans.
The "streamlining" of waste services means the county's ten waste sites will open on fewer days and for fewer hours in order to save £435,000 annually.
In the future, waste centres at Brixton, Corby, Daventry, Ecton, Kettering, Rushden, Sixfields, Towcester, Wellingborough and Wollaston will open for five days per week, and from 10am to 6pm each day.
The council had planned to close Wollaston recycling centre as it processed the least amount of waste per year out of the ten sites.
But on Tuesday, cabinet member for the environment, Councillor Michael Clarke, said he was "cautiously optimistic" a deal could be reached with a third party supplier to keep the centre open and even enhance it.
A spokeswoman from Wollaston Parish Council said it was "obviously a good thing" the centre was not going to close immediately, but said the authority would be seeking more information as to what the new plans would mean.
Northamptonshire's ten waste centres currently cost the council £2.75m per year, with the proposals set to save £435,000 per year.
It is expected the changes will be implemented from 1 February 2015.