Milton Keynes taxi row mayor Subhan Shafiq told by mother to vouch for rapist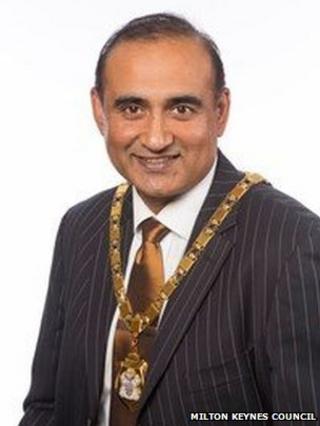 A councillor who vouched for a taxi driver with convictions for rape and sexual assault did so "under pressure" from his own mother, it has emerged.
Subhan Shafiq, who resigned as Milton Keynes mayor in August, gave a reference to Nadeem Ahmed Kiani, who gained a taxi licence in 2011.
Milton Keynes Council revealed three other members defended their decision to grant him a licence.
One argued Kiani had been victim of a witch-hunt.
The results of an investigation, which began in August after details of Kiani's convictions emerged, are due to be discussed by the council next week.
It found discrepancies in evidence given by Mr Shafiq, who gave a "glowing reference" to Kiani, in relation to how long he had known him.
Raping prostitutes
On various occasions, he said he had only known Kiani from his time in Milton Keynes, that their families had known each other from Mr Shafiq's childhood in Batley, West Yorkshire and that they had "played together as children".
A council enforcement officer said he had heard Mr Shafiq tell another taxi driver "he only spoke for Nadeem Kiani under pressure from his mother".
The officer said Mr Shafiq also vouched for that driver, telling him not to worry as "he had spoken for a convicted rapist before", a reference to Kiani.
Mr Shafiq resigned as councillor on Monday after the report was published.
Kiani was granted a private hire licence by the council's regulatory committee in 2011. Mr Shafiq had vouched for him at that meeting as a friend.
Thames Valley Police wrote to the authority a year giving more details of Kiani's convictions for raping and assaulting prostitutes in London in 1994.
His licence was suspended, but months later a second committee lifted that suspension.
The chairman of the second committee, Liberal Democrat Stuart Burke, and Labour vice-chairman Gladstone McKenzie have since resigned from the licensing committee.
In all, five councillors sat on the two committees, with Robin Bradburn sitting on both. Liberal Democrats Mr Bradburn and Alan Mallyon, and Conservative Amanda Box, who chaired the first committee, are no longer councillors.
Mr Burke and Mr McKenzie sat on the second committee with Mr Bradburn.
The report said Ms Box had described concerns over Kiani as "witch-hunting and a bloody disgrace".
She said: "No-one has mentioned the crime and how long ago it was, but it is held against him."
Mr Burke said listening to Kiani had given him a different impression to that given by the paperwork, while Mr Bradburn said Kiani had been "ashamed" and had not committed any further offences.
But Mr Mallyon said he had not known full details at the time, adding "nobody in their right mind would give a licence to a serial rapist".
And Mr McKenzie said: "If this was presented to me now... of course I wouldn't actually run with it."