Corby double death drivers 'culpable'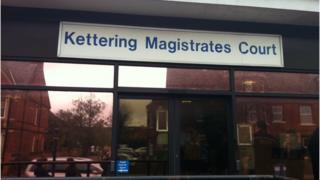 Two men killed in a crash both have "culpability" after an inquest heard one was likely to have fallen asleep and the other was driving at 113mph.
Oliver Geddes' red BMW collided with Grzegorz Tobola's Vauxhall Corsa, which was on the wrong side of the road.
The collision happened in the early hours of 9 June on the A6003 Uppingham Road near Corby, Northamptonshire.
Coroner Anne Pember recorded verdicts of accidental death for both men at Kettering Magistrates' Court.
Mr Geddes' mother, Catherine, said she felt "cheated" that her son's life had been taken away by "someone who was not paying attention or had fallen asleep".
But Northamptonshire Police forensic collision investigator, PC Cliff Wilkins, said: "Neither driver can be considered to be without some degree of culpability."
'Massive impact'
Mr Geddes, 25, had been travelling home to Union Street, Desborough. He had returned to the Corby depot of his employees, Elm UK, at 00:20 BST after working in London at the weekend.
Mr Tobola had travelled to Southampton during the day to drop off the girlfriend of his friend, Dawid Sosna. Mr Sosna, who cannot drive, had been a passenger in the Corsa at the time of the collision but had been asleep.
He had sustained cuts, bruises and a broken ankle.
Mr Geddes died from injuries to his head, chest and abdomen, while Mr Tobola, from Kingsthorpe Avenue, Corby, suffered injuries to his head, chest, abdomen and spine.
Accident investigator Mr Wilkins said he arrived at the scene at 01:15 BST and saw both cars had sustained a "massive impact".
Mr Wilkins said the speedometer on Mr Geddes' BMW had been stuck at 113mph (181 km/h) and it was "probable" this had been the speed he was travelling at. The road's speed limit is 60mph (96 km/h).
He calculated Mr Grzegorz had probably been travelling at around 46mph, but had more than likely fallen asleep and "allowed the vehicle to stray into the opposite lane".
"The primary cause was the errant position of the Vauxhall Corsa and the grossly excessive speed of the BMW. Culpability must lie with both drivers," he said.
In a statement read to the court, Mrs Geddes said: "The accident is constantly on my mind. I cry when I see anything that reminds me of him.
"I feel angry that he was killed by someone who was driving on the wrong side of the road. I feel cheated."