CCTV of Northampton Poppy tin 'theft' released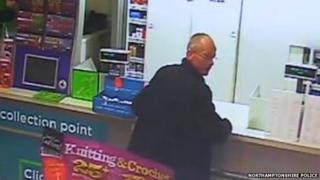 Film of a man who is believed to have stolen a Royal British Legion Poppy Appeal tin from a supermarket has been released by Northamptonshire Police.
The CCTV footage shows the man standing at a counter in the Asda store on Harborough Road, Northampton before and after the tin went missing.
The Poppy Appeal organiser for Northamptonshire, Dean Griffin, said he thought £40 to £50 was stolen.
The box went missing at about 22:15 GMT on 30 October.
Mr Griffin said: "It doesn't matter how much it was.
"It's money that would have gone to ex-servicemen and their families.
"It is sad when you think of all the people who gave time to collect during the poppy appeal, standing out in the cold and rain for hours."
Northamptonshire Police is appealing for witnesses to call 101 or Crimestoppers on 0800 555111.