Earl of Sandwich: Hungary workers can make good sarnies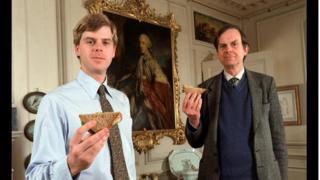 The Earl of Sandwich has stood up for the sandwich-making skills of migrant workers.
The descendant of the man credited with popularising the sandwich was speaking after Northampton's Greencore Group said it was employing Hungarians due to "very low unemployment" locally.
The earl said there was "no reason a migrant labourer can't make as good or a better sandwich".
Greencore said it still intends to recruit in Northampton.
'Beef or chicken'
John Edward Hollister Montagu, the 11th Earl of Sandwich, who is also a director of a sandwich-making firm, said: "Obviously I am concerned at the quality of the sandwich going down, but there's no reason a migrant labourer can't make as good or a better sandwich.
"The problem I think comes in regulation, where you have supply chains and you don't always know what's further back in the supply chain."
He says the best sandwich is either beef or chicken.
Greencore's human resources director Allyson Russell had said staff would have to be recruited from abroad.
The firm, which supplies Tesco and Marks & Spencer, made the move after failing to attract enough job applicants.
The plan to recruit abroad prompted a Daily Mail front page which asked: "Is there no one left in Britain who can make a sandwich?"
Greencore said it would continue to look abroad, but was also attempting to find people locally.
It is constructing a new £30m site on Deer Park Road in Moulton Park, due to open in spring 2016, which will employ 250 people.
Additional workers are also being taken on as part of a continuing recruitment process.
John Montagu, the fourth Earl of Sandwich, is said to have come up with the idea of putting meat between two slices of bread while playing cards.