Northampton fire death at St Crispin retirement village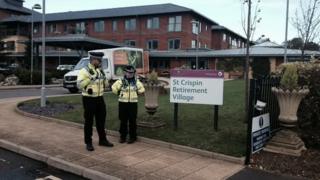 Northamptonshire Fire Service is investigating whether an ongoing strike played any part in the death of a woman at a retirement complex.
Fire crews were called to a flat at St Crispin Retirement Village on St Thomas Street, Duston at about 03:05 GMT.
The service said engines were not available to send from the nearest stations because of strike action.
The chief fire officer said he would be "disappointed" by the 20-minute response time during a non-strike day.
The fire, which was not thought to be suspicious, was in a self-contained flat.
Thirty other residents were evacuated from their homes and taken to a community centre at the complex.
Members of the Fire Brigades Union (FBU) have been on a four-day strike since Friday evening.
Stand-by engine
The fire service said it had been unable to use engines based at The Mounts or Mereway fire stations in Northampton.
Three fire crews attended the incident - one using a stand-by vehicle based in Northampton with two others coming from Daventry and Burton Latimer.
The service said the call came at 03:05 GMT and the first engine arrived at 03:25 GMT.
Martyn Emberson, Northamptonshire's chief fire officer, said: "It is longer than usual because we don't have the same level of resources.
"I would be disappointed by that turnout time if we had been in normal circumstances.
"We have in place contingency arrangements and we activated those contingency arrangements so the crews dealt with the incident and we responded as quickly as we could."
Gary Mitchell, vice chairman of the Northamptonshire FBU, said: "The response time shouldn't have been any different whether there was a strike or not, because there was a stand-by vehicle in Northampton and we're told contingency plans were robust.
"Our thoughts are with the victim's family as they are with any tragedy, whether there is industrial action or not."
The Extracare charitable trust, which runs the retirement complex, said: "We are deeply saddened by this incident. Our thoughts are with the resident's family.
"We are also concerned to ensure the welfare of our other residents and staff who are living and working within this village."