JCB used in cash machine raid at Kettering Budgens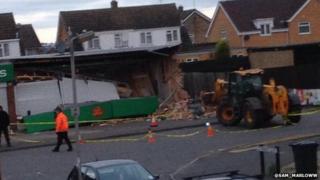 A stolen JCB and 4x4 have been used by thieves who drove into a shop in Kettering to steal a cash machine, police have said.
The Budgens store, on St Stephens Road, Ise Lodge, was targeted at about 04:00 GMT.
Northamptonshire Police said the incident had left the shop "severely structurally damaged".
Det Sgt Nick Cobley said: "We are not letting anybody into the building at the moment and are guarding the scene."
Police believe the thieves managed to take the cash machine before they dumped the JCB.
"We would encourage anyone who saw what happened in St Stephens Road in the early hours of this morning, or who knows anything about the two stolen vehicles, to contact us as soon as possible," Mr Cobley said.