Northampton St Edmund's Hospital to be turned into care flats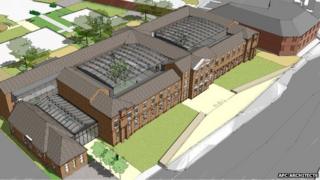 A former hospital and workhouse in Northampton is to be refurbished into apartments for the care sector.
The new future for the St Edmunds Hospital site in Wellingborough Road has been outlined by owners Kayalef, a Cypriot-based property developer.
Ashley Riley, the developer's spokesman, said a planning application would be submitted by January 2015.
Much of the building designed by architect George Gilbert Scott in the 19th Century will be retained, he said.
The hospital was closed in 1998 and the building has since become a target for vandalism.
"It is an eyesore for the town and has been that way for far too long," Mr Riley said.
The owners said it is a complex project to "convert 18th Century buildings to meet the needs of the 21st Century".
"Plans will address the site's historic archaeological importance with specific focus on the important original workhouse building," Mr Riley said.
"Conservation is at the heart of its future development."
The developers are in discussions with a number of local operators in the care sector who have expressed an interest in taking on the completed project.
Mr Riley stressed success will depend on a robust business plan as "the development must make money".