Northampton Greyfriars bus station to be demolished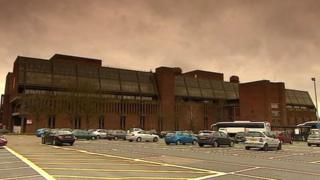 A brutalist bus station likened to the "mouth of hell" is to be demolished within seconds using explosives.
Northampton's Greyfriars bus station and office building, built in the 1970s, will be flattened by the end of March 2015, the borough council said.
The "controlled initiated collapse" will cause the building to fall within its own footprint.
The site will be left ready for the development of shops and attractions.
The Greyfriars bus station was due to be demolished by the end of this year, but higher than anticipated levels of asbestos found in the site has pushed the date into 2015.
David Mackintosh, leader of Northampton Borough Council, said they were looking to bring the building down in the safest possible way while minimising disruption to residents and businesses.
Costing more than £40m in today's money, the 1970s building has been the subject of ridicule for decades as an over-ambitious example of bad planning.
It was derided by Channel 4 presenter and designer Kevin McCloud as "like a great big mouth of hell".
Mr Mackintosh added: "Greyfriars is an obsolete, unsafe building that is blocking the regeneration of a key site in Northampton and now that this key decision has been made, we can at last begin to focus on the exciting potential that is being opened up by the site."
Elsewhere in the town, work is to start on a new car park with 1,300 spaces once the revamp of Northampton rail station is completed.
The station is to double in size with new shops, cafes and waiting areas. The next phase will see a lift and bridge for passengers to access ticket booths.
Old railway buildings are to be demolished to make way for further development as part of the £20m scheme.