Lava & Ignite Northampton club crush deaths: No criminal charges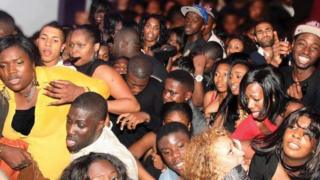 No criminal charges will be brought over the deaths of two women in a crush at a Northampton nightclub in 2011, prosecutors said.
Nabila Nanfuka, 22, and Laurene-Danielle Jackson, 19, both from London, were killed when "disorder" broke out at Lava & Ignite on 18 October.
The Crown Prosecution Service (CPS) said there was "no realistic prospect" of conviction following the "tragedy".
This was due to "insufficient evidence", said a spokesman.
The CPS was asked to considered offences of gross negligence manslaughter against the club's general manager and head of security following an investigation by Northamptonshire Police and health and safety investigators from Northampton Borough Council.
Dan Jones, of the CPS Special Crime Division, said: "The prosecution cannot prove that he [the club's general manager] foresaw, or should have foreseen, in advance of the crush developing, that there was an obvious and serious risk of death from overcrowding on the cloakroom landing and the stairs.
"There is no evidence of any previous issues with overcrowding at this location in the club.
"Nor is there sufficient evidence to show that the manager deliberately disregarded people's safety; as soon as the crush began to develop he took steps to try and stop it."
'Crucial' lessons
The CPS also found "there was no evidence of gross negligence on the part of the head of security".
Ms Nanfuka, from north London, was studying leisure and tourism at the University of Northampton. She died at Northampton General Hospital.
Ms Jackson, 19, from Shepherd's Bush, was studying psychology and criminology at Kingston University London and died at Leicester Glenfield Hospital.
David Mackintosh, leader of the council, said it was "crucial" lessons were learned from the investigation "so that it is prevented from happening again."
The council said it would now review the evidence it had gathered, liaise with the coroner and decide if action should be taken under the Health and Safety at Work Act.
Mr Jones added: "The death of these two young women on a night out with friends is a real tragedy and our thoughts remain with the families of Nabila and Dani. We have written to them to explain our decision in detail."
About 1,500 people were at the club in October 2011 for the Wickedest Wickedest event, many of them university students who travelled to Northampton on coaches.
The club closed permanently after the incident when operator Luminar went into administration.