Thunderbirds theme for Northampton bus station suggested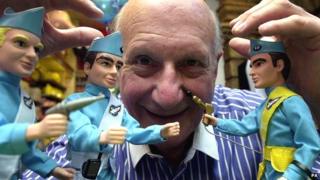 A Gerry Anderson experience dedicated to the Thunderbirds creator and a giant ball pit are among the more imaginative suggestions to replace a bus station.
More than 300 ideas were put forward to replace Northampton's Greyfriars station during a public consultation.
A "Korean town" and a small urban farm were also suggested by respondents.
Tim Hadland, regeneration head at Northampton Borough Council, said many of the ideas were "unlikely", but was pleased most options had been raised.
The former Greyfriars station, described as an architectural "mouth of hell", is being demolished after being replaced earlier this year by a new £7m interchange.
But, among the radical ideas about what should go in its place, a third of the 307 suggestions were for replacement public transport facilities.
The town's new bus station has been wracked with problems since it opened and has been blamed for causing traffic problems.
On Wednesday, the borough council's cabinet met to cast an eye over the list, which included a homage to the late Thunderbirds creator, who was evacuated to Northamptonshire during World War Two.
Mr Hadland said: "Consultation is very often an exercise in saying 'we're going to do this, what do you think?'
"Here, we're starting with a blank sheet of paper and we're asking people for ideas right from the outset.
"As a first requirement it's got to be deliverable and it's got to be sustainable.
"A four-acre ball pond or a Korean village, full-scale at any rate, is unlikely, but it does show the breadth of people's thinking and that's really all to the good because in the 307 ideas that we got there have got to be many we haven't thought of."