Ben Talbot appeal: Funds raised for Finedon boy's leg operation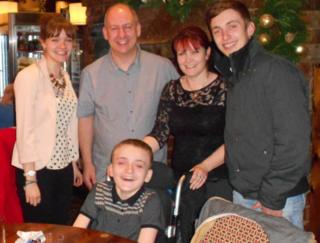 A 15-year-old boy with an undiagnosed brain abnormality resulting in severe physical difficulties is flying to the US for a specialist leg operation after his family raised £30,000.
Ben Talbot of Finedon, Northamptonshire, is due to have keyhole surgery on his tendons at St Louis Children's Hospital, Missouri.
The surgery is not available in the UK and fundraising began in February.
The family fly out on Saturday, with surgery due to take place on Thursday.
Ben's family said he had always relied on adults for all his personal care, feeding and mobility and he also has learning difficulties and no real speech ability.
He used to have some use in his legs, but as Ben has got older the muscles have tightened, which has made it impossible for him to straighten them.
'High success rate'
A invasive tendon operation is available in the UK, but his family said it would mean the teenager was in plaster for up to eight weeks and the treatment was therefore not suitable for him.
The keyhole version would mean an overnight stay, with physiotherapy beginning the day after.
Ben's father Paul Talbot, who is a fire service training officer at Daventry, said: "The keyhole leg operation should enable him to be able to use a standing frame, which in turn should help prevent further curvature of his spine which he has got from sitting in a wheelchair.
"This has been pioneered in the US and it just isn't offered on the NHS, or through private hospitals in the UK, at the moment.
"All the statistics show a high success rate with a short recovery period."
The Help Ben Appeal has raised money via events including a bike ride, benefit gig and Indian banquet in Finedon.