Peter Bone MP demands answers over Wellingborough Prison future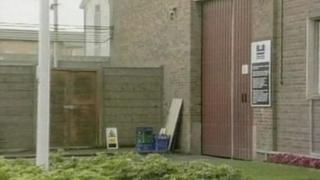 An MP has called for answers over the future of a mothballed prison in Northamptonshire after hearing reports work was being carried out at the site.
Peter Bone MP believes Wellingborough Prison could be used as a reserve jail to combat UK capacity problems.
The Ministry of Justice said there were "currently no plans" to reopen it.
Conservative Mr Bone, who represents the town, is to meet with prisons minister Andrew Selous to "find out exactly what is going on".
The government closed the category C prison at the end of 2012 saying it was outdated and expensive.
It said the move, which meant the loss of about 600 prison places, would save £10m a year.
Mr Bone said residents had told him "work was definitely going on" at the site and former prison officers had received letters asking if they wanted to join a reserve force.
A decision to sell the site was also reversed a few months ago, the MP said.
"We do know there is a plan for a series of reserve prisons with prison officers who used to work in the prison service on standby," he said.
"If there was a capacity problem in the prison service... they would reopen a prison and bring in officers.
"I think that's what they have in mind for Wellingborough."
The Ministry of Justice has confirmed it is not disposing of the building.