Anglian Water: Boil water advice after main burst last week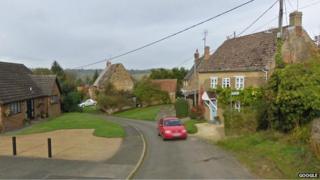 Residents in a Northamptonshire village have been unable to use their tap water for drinks, food preparation or cleaning teeth for seven days.
A water main serving Upper Boddington burst a week ago and was repaired.
Higher than expected levels of "naturally occurring" bacteria were found when water samples were tested.
These have persisted despite flushing the pipes and increasing chlorine levels. This indicated other bacteria might be present, Anglian Water said.
Tap water can still be used for washing, bathing and flushing toilets but Anglian Water said there would be a stronger smell of chlorine.
The water company apologised to residents for any inconvenience.
Bottled water supplied
The advice also applies to drinking water for pets.
"We found more of a naturally-occurring bacteria than we would expect," the company said.
"These bacteria are a good indicator of water quality, and in most cases they don't cause illness and are largely harmless.
"However, their presence can indicate that other bacteria are also in the water."
Villagers are advised to boil water until things get back to normal but the company would not say when this would be.
Bottled water is being distributed to households.
"It can take up to two days for the laboratory test results to be available.
"We are processing them as quickly as possible," Anglian Water said.