Northamptonshire Police amnesty: Weapons handed in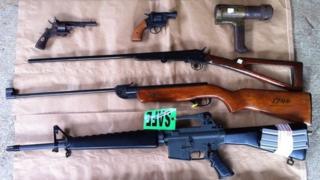 A "large number" of guns and replica firearms have been handed in during the first two days of a weapons amnesty.
Northamptonshire Police said air rifles and replica weapons, plus several large collections of ammunition, were among the items received.
The last amnesty in the county was held in 2003 and saw 523 weapons handed in.
The latest campaign runs until 28 September and gives people the chance to give up both lawfully and unlawfully held weapons.
Police have not disclosed an exact figure but said it had received a "large number" of weapons.
Insp Sarah Johnson, who is leading the amnesty, said: "Each weapon we recover helps us to make Northamptonshire a safer place and takes away the risk of these items ever falling into the wrong hands."