St Andrew's Healthcare to build £45m Northampton unit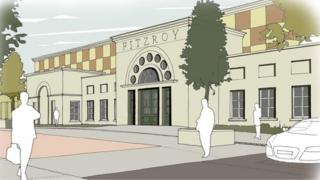 Mental health care for young people is to get a £45m boost with the building a new therapy centre in Northamptonshire.
The 110-bed centre with a school is to be built by St Andrews Hospital on its Cliftonville Road site in Northampton.
It will accommodate and educate young people from across the UK who have complex mental illnesses, autism and learning difficulties.
Healthcare specialist charity St Andrews said it would bring together its adolescent services on to one site.
As well as providing therapy and treatment the site will include sports and activity areas, the charity said.
St Andrew's chief executive Gil Baldwin said: "As a charity, we want to ensure we help our young people to fulfil their individual potential and help them move forward in their lives.
Environment to thrive
"Developing a culture of learning can help to raise their self-esteem, improve their confidence and independence.
"We already offer extensive education opportunities through St Andrew's College."
The new unit will be built on the site of the former Cliftonville Middle School and work is due to start later this year.
An earlier scheme for a psychiatric unit costing £52m on the site has been abandoned.
St Andrews said: "We realised we needed to respond to national demand for adolescent care as a priority."
The design of a new building needed to be tailor-made to provide the right environment for young people to thrive, a spokesperson said.
"We have now received detailed planning permission and hope to start work in the autumn," she added.
St Andrew's Healthcare is one of the UK's largest charity providers of NHS services and employs more than 4,000 staff across its operations in Birmingham, Northampton, Nottinghamshire and Essex.
The hospital has provided psychiatric care in Northampton since 1838.