Second medieval malting oven discovered in Northampton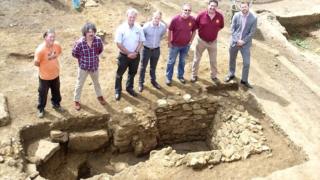 A second, larger medieval barley malting oven has been unearthed by archaeologists in Northampton.
A 13th Century oven was found in July on the same site at St John's Street, where the county council's £43m headquarters will be built.
The discovery of the malt ovens and two wells means beer could have been brewed on a large scale, the council says.
The dig is one of the largest excavations in the town for more than 30 years.
Archaeologists started to uncover the second lot of remains last week.
A Northamptonshire County Council spokesman said: "Yesterday we confirmed that it was indeed a malt oven, which would have been used for roasting barley for the brewing of beer.
"This oven is bigger than the first one found in the summer but dates from approximately the same period.
"The malt ovens and the discovery of two deep wells indicate the brewing of beer in the area on a relatively large scale, possibly dating back 800 years."
Flagstones from the first oven will eventually go on display at a pub planned for Phipps brewery in nearby Kingswell Street.
Phipps' managing director Alaric Neville, who was an archaeologist, said: "I've popped into the dig every day.
"It has become apparent there's a brewing history that goes back to the 13th Century and they were there for the same water source that we are here for."