Northampton lift tower gets permanent abseiling status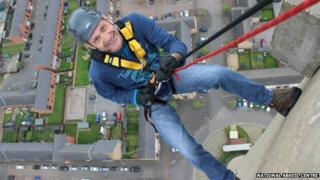 A 418ft (127m) high former industrial tower is to become a permanent centre for charity abseils.
The Grade II-listed National Lift Tower in Northampton was opened by Express Lifts in 1982 and used for research purposes until 2008.
Nearly 500 people have descended the landmark under a temporary licence in the past 12 months.
Northampton Borough Council has now granted approval for it to be used up to 24 times a year for abseiling.
Express Lifts closed its factory in 1999 and the tower, which is now owned by businessman Peter Sullivan, began holding abseiling events in 2011.
The National Abseil Team believed the building, now called the National Abseiling Centre, was the only one in the UK dedicated to abseiling.
Kurt Perryman, who runs events there for the National Abseil Team, said: "We're over the moon as money has been spent keeping people happy and safe and now we can get on with doing more abseiling.
"It's a great spot because the sheer height of it and the circular wall means it offers something other places can't offer.
"People who do charity abseils find it really fulfilling and many overcome a fear of heights."