Northampton bus station demolition delayed by asbestos find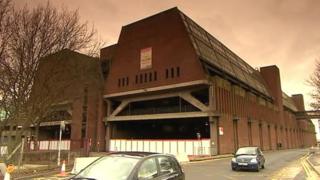 Higher than anticipated levels of asbestos found in a former bus station in Northampton may delay its demolition by up to six months.
The Greyfriars bus station was due to be demolished by the end of this year.
Now the site is likely to be cleared early in 2015 but the borough council declined to give a precise target date.
Tim Hadland, from the council, said work was under way with newly appointed contractors DSM Limited to decide the safest way to bring the building down.
DSM, who had previously demolished city centre buildings in Liverpool and Leicester, were experts in this type of work, Mr Hadland said.
The aim of the council was to create the minimum amount of disruption in the town centre.
"There is always going to be asbestos in buildings of this age so it was no surprise, " Mr Hadland said.
"As we move through the demolition process we find out more about the original construction."
The contractor is working without the original construction plans which no longer exist.