Northampton teacher creates loom band top for charity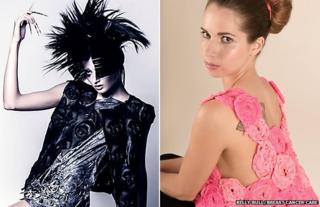 A supply teacher has used more than 27,000 pink loom bands to create a one-off garment for charity.
Fashion design graduate Kelly Bull, 25, from Barton Seagrave, Northamptonshire, challenged herself to take the playground craze to a new level.
She said: "All of the kids were doing it and I thought why not do something different to lots of bracelets."
The top, which used about £100-worth of loom bands, will be auctioned for Breast Cancer Care until Monday.
The mother of one spent four hours a day, seven days a week, for a month designing and making the size 8 to 10 asymmetric spiral top.
'Textile challenge'
The loom bands were woven by hand into long strips which were then rolled and glued into spirals and reinforced with fishing wire.
They were then placed on a mannequin like "discs of fabric" to be sewn together.
"It was challenging, even though I'm used to working with latex and plastics in my designs," said Ms Bull.
"Bonding glue, like you use for bicycle tyres, wasn't strong enough so I had to hand sew each spiral with fishing wire to secure them, only then was I able to connect them all together."
Ms Bull had originally planned to create a dress but the loom bands were too heavy.
"The spirals aren't flexible either so I couldn't create a garment fitted to the body," she said. "I also had to think about fastening as any buttons and zips would create a weakness - it was a real textile challenge."
Rebecca Woollgar, from Breast Cancer Care, said: "We know it took a huge amount of hard work so we can't thank [Kelly] enough."
Breast cancer is the most common cancer in the UK with about 55,000 people are diagnosed with it each year, the charity said.