Changing Tracks railway line towers over Stanwick Lakes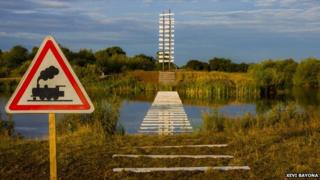 An artwork symbolising one of Northamptonshire's disused railway lines is now towering 12m (37ft) over Stanwick Lakes.
Trace Tracks by Xevi Bayona is part of the the Changing Tracks project along the former Nene Valley line between Northampton and Peterborough.
It follows the route of the railway line across one of the lakes.
Northamptonshire County Council said it wanted the art project to promote foot and cycle paths.
Changing Tracks is a £320,000 art project across three countries, which also involves disused railway lines in Catalonia in Spain and County Mayo in the Republic of Ireland.
Half of the money came from the European Union with the rest from other partners, Northamptonshire County Council said.
Irish artist Aideen Barry has installed a video project called Hints To Lady Travellers at the former Rushden goods shed and online, while Salford-based Noah Rose has built four cabinets reflecting the industrial heritage of the Nene Valley
They can be found at Rushden Transport Museum, Irchester Country Park, Summer Leys Nature Reserve and at Stanwick Lakes.
The Northampton-Peterborough line was opened in 1845, but was closed in 1972.