Harry Connolly death: Doctor missed 'red flag symptom'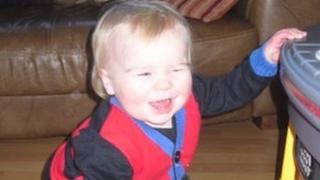 A doctor missed a "red flag symptom" as she assessed a toddler who died three days later, a disciplinary panel found.
Harry Connolly, who was 19 months old, died on 1 May 2011 from dehydration and liver failure.
Dr Tasnim Arif failed to record his mother's claim he was "lethargic" when she examined him at Northampton General Hospital on 28 April.
The Medical Practitioners Tribunal Service will decide on the doctor's fitness to practise in January.
In its ruling, the panel said lethargy was a "red flag symptom" of clinical dehydration.
Not recorded
Harry was admitted to the hospital's paediatric ward on 26 April and discharged the following day.
His parents took him back on 28 April where he was examined by Dr Arif, a paediatric registrar, and later discharged.
His father, Raymond Connolly, found him stiff and lifeless in the early hours of 1 May.
A port-mortem examination found he had died of dehydration and acute kidney failure after suffering from an inflammation of the colon, which had not been detected by the hospital.
The doctor also failed to arrange for further checks on the toddler and "failed to adequately assess Harry's clinical features".
Eight other allegations against Dr Arif were found not proven.