Weetabix seeks redundancies in Burton Latimer and Corby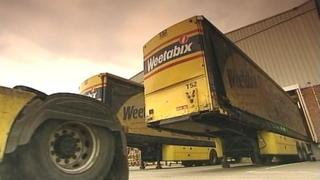 Cereal firm Weetabix is looking to shed 30 staff as part of a "wider efficiency drive" at its plants.
The company said all its 1,200 staff in Burton Latimer and Corby in Northamptonshire were being consulted on voluntary redundancy.
It said it was co-operating with the Usdaw and Unite unions about the proposals. The unions have yet to comment.
The news comes four months after staff were consulted over possible pay cuts.
Chinese-owned Bright Food bought a 60% stake in the firm in 2012 from Lion Capital in a £1.2bn deal.
As well at creating Weetabix, the company owns the Alpen, Ready Brek and Weetos brands.
The company has not specified which area it wishes to cut back on. The last time the firm axed staff was in 2007.
A spokeswoman for Weetabix said: "The programme... is expected to avoid the need for compulsory redundancies, with the last such offer in 2007 being heavily oversubscribed.
"Management of Weetabix's cost base is important to allow the company to drive growth both at home and overseas.
"The breakfast category is highly competitive, and Weetabix is adapting to meet the changing needs of today's modern families."