Nicholas Marshall's Amsterdam death remains a mystery, inquest hears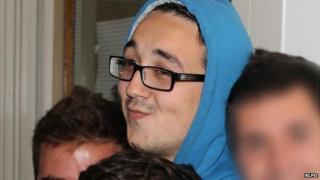 It remains unclear how a British student met his death in an Amsterdam canal, an inquest has heard.
Nicholas Marshall, 23, from Northampton, went to the Netherlands to study a degree in 2012.
During a trip to the city he went missing and his body was later found. Dutch police became involved after money disappeared from his account a day later, but the case went cold.
Coroner Anne Pember recorded an open verdict, calling it a "tragic" death.
The inquest at Northampton General Hospital heard Mr Marshall was driven by his mother Margaret Marshall to the Eindhoven University of Technology on 15 August 2012 to start an electrical engineering course.
Dr Soerdjballe Maikoe said the autopsy showed there was no obvious cause of death but it was consistent with drowning.
Toxicology tests proved inconclusive, but it was known Mr Marshall, who lived in St Albans in Hertfordshire for much of his life, smoked cannabis and had been depressed.
Dutch police said in 2012 that officers were investigating a possible crime relating to Mr Marshall's death.
But Ms Pember said the officers had concluded there was "no evidence of foul play". Ahead of the inquest, police told the BBC the case was being kept on file.
Recording her verdict, Ms Pember said it was a "tragic, untimely death", saying Mr Marshall had "his whole life ahead of him".
Afterwards his mother, Margaret, said he was an "intelligent, caring person who was sadly missed by all".