'Shock' as Morrisons takes over Deanshanger pub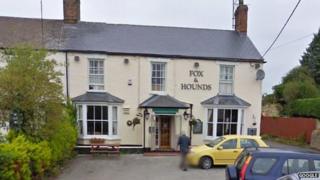 Residents are in a state of "shock and horror" after finding out a village pub is to be converted into a supermarket, a parish councillor has said.
Planning permission was granted earlier this year for building work to "enhance" the vacant Fox and Hounds in Deanshanger, Northamptonshire.
But the building has now been leased to Morrisons, which said it had "no involvement" with the application.
Parish councillor Andy Limbert said the village already had enough shops.
"There are four very good shops in the village and we need a further one like a hole in the head was the attitude of most of the people," Mr Limbert said.
The application to extend the building was submitted at the end of last year.
"Our proposal is very much a 'locals' offer", a supporting statement submitted by PLC Architects said.
It said the pub would concentrate on "real ales, home cooked food" and "providing a warm and comfortable environment".
The parish council had shown support for plans to reopen the pub, which closed last summer.
But Mr Limbert said on 25 July the council received a letter from Morrisons announcing its plans for a convenience store.
"We are shocked because we didn't know this could happen," he said.
A spokeswoman for Morrisons said: "As a tenant, we did not have an involvement with the approved planning application.
"We are known for being a responsible retailer and as such work within set guidance and policy."
The government website says planning permission is not needed when both the "present and proposed uses fall within the same class", which would cover a change from a pub to a shop.
PLC Architects has been unavailable for comment.