West Haddon care home residents 'at risk of burns', CQC says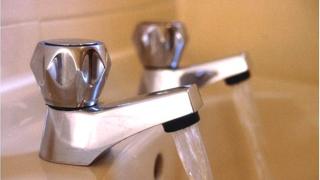 Scalding water, broken windows and faulty appliances put Northamptonshire care home residents at risk of harm, inspectors found.
The Care Quality Commission (CQC) has demanded "urgent action" be taken over its findings at the Foxhill Manor Nursing Home in West Haddon.
It has also referred some of its concerns to the Health and Safety Executive (HSE).
The home has yet to comment on the report's findings.
Up to 26 people with degenerative conditions, such as dementia, can be cared for at the home.
Following visits in June, inspectors found the home failed to meet five out of seven key standards.
In its report, the inspectors said: "We also identified serious concerns relating to the safety of the environment.
"For example two of the bedrooms on the second floor had broken windows and one of the bathroom doors was hanging off its hinges."
Hot water from the second floor shower and ground floor bathroom was found to be between 129F (54C) and 132F (56C) and a cooker "was unsafe but they had continued to use it".
Details of the cooker and water temperatures have been raised with the HSE.