Northamptonshire 1930 'blazing car murder' breakthrough hope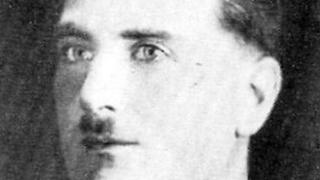 Attempts to identify the victim of a murder 84 years ago have led scientists to find "two good prospects".
The unknown man was burned to death in 1930 in Northamptonshire, in what became known as the "blazing car murder". His killer Alfred Rouse was later hanged.
Last year, the victim's DNA profile was extracted from archived evidence.
University of Leicester experts have said they were hopeful in their quest to identify the victim.
Fifteen families have come forward to say the victim could have been a relation who had gone missing.
Dr John Bond, senior lecturer in forensic science, and criminology lecturer Dr Lisa Smith have already ruled out the victim could have been 23-year-old factory worker William Briggs.
"When it wasn't this family I thought we're never going to find it as this guy went missing over 80 years ago," said Dr Bond.
"But when you get all these families coming forward who have seen it on the television and have thought that could be our missing relative, I am reasonably hopeful.
"We have two good prospects."
The lecturers are trying to discover the mystery victim's identity by profiling the circumstances of a person's disappearance and then taking cheek swabs from suspected descendants, to confirm the DNA link.
Dr Bond said: "It's now simply a case of getting a swab from the relatives, profiled and a comparison made."
The team said "philanderer" Rouse maintained he did not know the name of his victim as he went to the gallows at Bedford Jail.
He hit the man over the head with a wooden mallet, placed his body in his Morris Minor and set it alight in the village of Hardingstone.