Unite agrees to arbitration meeting with hospital trust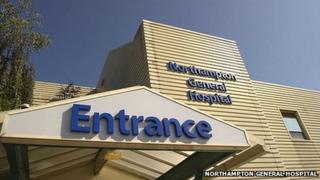 Unions and management involved in a dispute over new contracts are to meet with the arbitration service on Monday.
More than 70 biomedical scientists and support staff are resisting changes to pay and conditions at Northampton General Hospital.
The Unite union said it was going into talks with Acas without preconceptions but hoped for a positive outcome.
The hospital also said it was pleased Unite had suggested further discussion through Acas.
The hospital's chief operating officer Debbie Needham, said: "Our focus is on patient safety and maintaining the standards and turnaround within the pathology service, regardless of the disruption.
"Our patients remain our priority."
Court to decide
Mick Orpin, regional officer for Unite, said "We are going into the meeting with no preconceptions but it is a step in the right direction.
"We want to improve the offer on the table but we are not going in with a hard and fast attitude but to see what the meeting brings."
Meanwhile, an application for an injunction has been lodged with the Administrative Court in London in a bid to prevent the use of agency staff to replace the workers.
The court will meet to decide the matter on Thursday 24 July.
The hospital said it would "defend its right to continue to provide the pathology service via lawful means".
Unite said its affected members had been "locked out of the workplace" since 26 June and the hospital's use of agency workers to cover "locked out staff" was against the law.