Peahens needed for lovelorn peacocks at Kirby Hall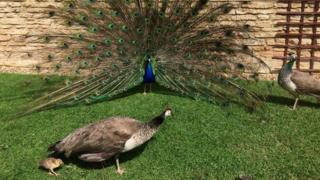 A stately home in Northamptonshire is appealing for peahens to mate with the home's lovelorn peacocks.
Staff at Kirby Hall in Corby said the home's nine peacocks were "frustrated" by a lack of female company.
The lovelorn birds have been displaying their tail feathers to park benches, bins and squirrels in an attempt to find a mate.
Beryl Spearman, who looks after them, said: "We have only four peahens and some are a bit long in the tooth."
Peacocks have made themselves at home in the hall's grounds since it was built in the 17th Century.
Ms Spearman said: "We lost a number of peahens to a fox last summer. We think they must have been the older ones getting a little bit slow.
"They're wild and look after themselves so we can't pen them in."
Peacocks should each have at least two peahens to mate with, Ms Spearman said. "Any wild peahens found in nearby villages would be more than welcome at Kirby Hall."