Jamie McMahon death: Michael Francis guilty of murder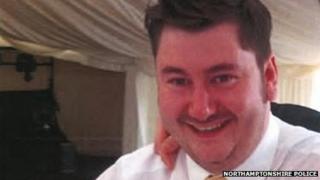 A man has been found guilty of killing a snooker club worker in a churchyard.
Jamie McMahon, 26, was kicked to death during a robbery in the grounds of St Giles' Church, Northampton, in October, the town's crown court heard.
He died from head injuries inflicted as he took a shortcut home after a night out with friends, police said.
Michael Francis, 33, denied murder and robbery but was found guilty by a jury. Mark Lewis, 19, had already pleaded guilty to robbery and murder.
Mr McMahon, a barman at Coopers Snooker Club, was attacked in the grounds of the churchyard in the early hours of 2 October.
His body was found by a member of the public shortly before 08:00 BST.
He had been kicked and stamped on and died of head injuries, Northamptonshire Police said.
'Uncontrollable anger'
On 18 October, Francis, of St James Road, Northampton, and Lewis, of Clickers Drive, also in Northampton, were charged with murdering and robbing Mr McMahon.
Lewis admitted both charges on 27 June, during his trial.
In a police statement read to the court, Lewis said: "I'd never been that angry before. I kicked him [Mr McMahon] so hard I felt my toe shatter.
"When the anger comes I can't control it, I cant stop it. It's like a black hole."
Francis admitted being present during the attack but blamed Lewis for the murder.
However, the jury at Northampton Crown Court took less than a day to find him guilty of both murder and robbery.
The pair are due to be sentenced on 1 August.