Jamie McMahon case: 'Murder pair in it together'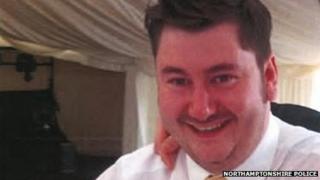 Two men who murdered a barman in a churchyard were "in it together", prosecutors have told a jury.
Jamie McMahon, 26, suffered head injuries in an attack in the grounds of St Giles' Church, Northampton, in October, Northampton Crown Court heard.
Michael Francis, 33, of St James Road in the town, denies murder, manslaughter and robbery.
Mark Lewis, 19, of Clickers Drive, Northampton, has already pleaded guilty to robbery and murder.
Mr Francis admits being at the scene but said it was Lewis who stamped on the victim.
'Black hole'
He said when the pair returned to Lewis's flat after the attack, the teenager had a dislocated or broken toe.
Mr Francis's defence said Lewis had told police during interviews that he had "flipped".
In a police statement read to the court, Lewis said: "I'd never been that angry before. I kicked him so hard I felt my toe shatter.
"When the anger comes I can't control it, I cant stop it. It's like a black hole."
Last week the court heard Mr Francis told police he was frightened of Lewis, who held a sword to his neck and threatened to kill him if he went to the authorities.
The prosecution, however, told the jury both men were guilty and "in it together".
Mr Francis had picked up Mr McMahon's wallet and he and Lewis had swapped coats to put police off their trail, the court heard.
The following day they sold the victim's mobile phone and four days later the pair destroyed the clothes they had worn on the night of the murder.
The jury has retired to consider its verdict.