Academy to tackle Northamptonshire social worker shortage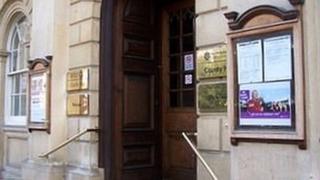 A training academy is being set up to tackle the shortage of social workers in Northamptonshire, where children's services were labelled "inadequate" by Ofsted.
A review of the service now says the county is making "real progress", but expresses continuing concern that 47% of social work staff are from agencies.
The county is starting its own academy to recruit and train staff.
It will provide a year's intensive training for new social workers.
The reliance on agency staff has been criticised in previous reports because they are less likely to have the experience of staff employed long-term by the council.
An independent assessment by the county's improvement board chairwoman Christine Davies reported that "despite the depth and extent of Northamptonshire's challenges, real progress has been made".
In her progress report to the Department of Education, Mrs Davies cautions that Northamptonshire County Council's "relentless determination and focus will need to be maintained before the council's services can be viewed as consistently adequate or good".
The report adds that her review found "significantly improved managerial oversight", increased confidence in managers and "evidence of social workers now wanting to stay and work Northamptonshire".
Heather Smith, deputy leader and cabinet member for children's services, said: "One of our biggest challenges remains the high level of agency staff.
"We have to address the national shortage of experienced social workers and one way we're doing that is with the creation of a social work academy.
"This will allow us to handpick the most committed and enthusiastic social work students and put them through a year-long intensive training and support programme.
"At the end of the year, they'll have the skills and confidence to work alongside our existing social workers."
The report will be discussed at a meeting of the council's cabinet next week.