Fresh appeal over unidentified body found 12 years ago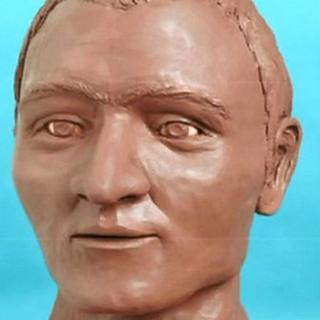 A cold case review team has been set up in the hope of identifying the body of a man found during a litter pick event 12 years ago.
A clay model of the man's head was created following the discovery under bushes at Lings Wood in Northampton.
It is thought he might have been there for up to a year before he was found. The body has never been identified.
He was an adult male, aged between 25 and 50, and he was between 5ft 8in to 6ft, probably with dark hair.
'Some closure'
Neil McMahon, of Northamptonshire Police's cold case review team, said: "We're very keen to try to identify this man and that's our primary concern here.
"It has been 12 years since he died and we still don't know who he is.
"We want to bring some closure to this case and we are taking this opportunity to try to reach as many people as possible here and around the world."
Items found with the body on 29 September 2002 included a beige sleeping bag, a black Equinox fleece jacket, a blue Viale work wear top, a green and brown Jet Flow Torille 40 Outbound rucksack, cigarette lighters, a purple comb and hairbrush, a glasses case and lens cloth and a damaged black and white photograph.
He was wearing a pair of blue and grey New Balance trainers, white socks, navy Petroleum track-suit bottoms, a pair of boxer shorts, a long-sleeved Polo-style top and a short-sleeved Polo-style top.