Tractor pulled over on M1 in Northamptonshire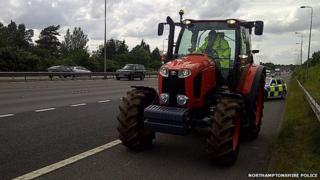 A tractor driver has been caught trundling along at a top speed of 24mph (38km/h) down the M1.
Roads policing officers in Northamptonshire were called to the southbound stretch of the motorway near Daventry by a concerned lorry driver.
It is understood the driver ended up on the M1 after following directions from his satellite navigation system.
He was escorted by police down the hard shoulder and off the motorway at the next junction.
Police said the driver had been reported for a number of motoring offences.
By law, farm tractors, cyclists and other slow-moving vehicles are not allowed on motorways.
Writing on Twitter about Wednesday afternoon's incident, Sgt Tony Hopkins said it was "not every day that a tractor is taken off the M1", adding it was an "interesting job".