Rushden recycling plant 'plague of flies' unresolved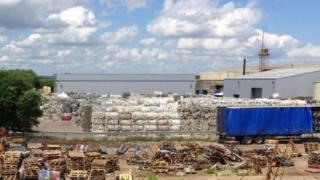 A recycling company blamed for a plague of flies of "Biblical proportions" failed to turn up at a public meeting aimed at resolving the issue, earlier.
Businesses and residents claim the flies come from Monoworld on the Sanders Lodge industrial estate in Rushden, Northamptonshire.
The company has not said why it failed to meet with the public, councillors and the Environment Agency.
The Environment Agency said it would pursue the matter further next week.
Jeremy Aldwinckle, of nearby company TR Lawman Ltd, said he had experienced problems with flies for the past two summers.
'Burning fly smell'
He said: "It's a plague of Biblical proportions and was particularly bad last year."
He claimed the TR Lawman canteen's electric fly-killer was "currently killing between 30 and 50 flies a day".
"During the height of summer last year the fly-killer near the door was killing so many that my employees refused to use the canteen because of the smell of burning fly," he added.
He has installed five electric fly-killers throughout the factory and said fly-papers were also used "when the infestation gets to its peak".
A meeting to discuss the fly infestation in the area was organised by Sarah Peacock from East Northamptonshire District Council.
She said Monoworld informed her this morning that they would not be attending.
She described it as "a bit disappointing" but said a "useful question and answer session" had taken place with the Environment Agency.
Charles Phillips, from the agency, said it had amended Monoworld's licence, requiring them to store waste indoors in order to contain any flies.
"We realise it's very frustrating but we can't just close a company down, which is what some residents want, without giving them the chance to adhere to these restrictions," he said.
The agency plans to meet with the company's representatives next week, he said.