Corby's Scottish expats to hold mock referendum on independence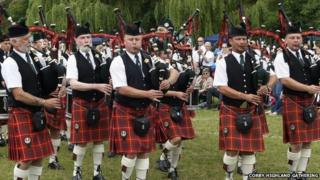 Expats living in England's "little Scotland" are to host their own mock referendum on their home country's independence.
Thousands of Scots started moving to Corby, Northamptonshire, in the 1930s to work on iron and steelwork sites.
The ballot will be held at next month's Highland Gathering, with the vote being verified by event organisers.
Organiser Mark Pengelly said the vote was "a bit of fun" but could set the tone for the national vote.
Many Scottish families remained in Corby despite the collapse of iron and steelwork sites in the area, leading to the town becoming known as "little Scotland".
'A lot of interest'
Corby Borough Council had campaigned to give its residents a say on Scotland's future, but it proved unsuccessful with only those permanently living in the country eligible to vote.
Mr Pengelly, a Labour councillor, said there was much resentment to this in the town, with many people concerned about what a "Yes" vote could mean to the rights of Scottish people living in England.
But he felt a mock vote would "give them a voice" and could provide an interesting insight into how the overall vote might go.
"Corby has a lot of Scottish traditions. The vote won't mean anything, but it will certainly create a lot of interest," said Mr Pengelly.
A Better Together campaign spokesman said expatriate Scots may not have a vote but "they have a voice".
They should make contact with family and friends in Scotland and persuade them to reject independence, he said.
A Yes Scotland spokesperson said: "We understand why expats are keen to get involved in the referendum debate and indeed would encourage people to engage. However, residency determines eligibility to vote."