Donor surge after Joey Ziadi bone marrow appeal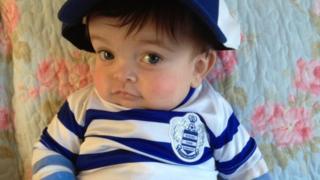 A plea to find a nine-month-old baby a life-saving bone marrow match has prompted an almost 250% increase in donor applications, a charity has said.
Joey Ziadi, from Northampton, is one of only 800 people in the world known to have Diamond-Blackfan anaemia.
His best hope of a cure is a bone marrow or stem cell transplant.
Kaisha Morris, Joey's mother, said the response was "overwhelming" but urged more people to come forward to increase the chances of finding a match.
"It means so much to us to know that so many people are behind us and we aren't alone," she said.
Joey was born with a hole in the heart but his blood disorder was not diagnosed until he was six months old.
'Joey effect'
The appeal was made last month after Joey's sister Isabella was found not to be a match.
The Anthony Nolan Trust, which uses its register to match potential bone marrow donors to blood cancer patients in need of a transplant, said there had been an "amazing response" to the appeal.
"Joey has touched the hearts of people in Northampton and we're seeing the 'Joey effect' in terms of people joining the register," said Sarah Roulstone, from the charity.
There has been a notable increase in donors coming forward from Northampton, with 77 people signing up in the past two weeks compared with seven in the same period last year.
Nationally, 3,019 donor applications were received, compared with 864 last year - an increase of almost 250%.
Support has also come from footballer Joey Barton, who plays for Queens Park Rangers, the team the family supports. A tweet asking for help was retweeted more than 1,300 times.
The charity said signing up to the bone marrow register involved filling in a form and providing a saliva sample.