Northamptonshire junction improvement increases congestion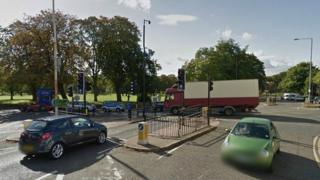 A £1.3m traffic scheme to reduce peak-time congestion in Northampton brought severe morning delays.
Northamptonshire county councillor Michael Clarke, responsible for the inner ring road scheme, said delays would get worse during construction.
"Northampton is growing and needs new infrastructure and we are investing in the intersection of Bedford Road and Victoria Promenade," he said.
He apologised that disruption would occur over the 20-week project period.
He said the improvement would make the temporary congestion worthwhile.
Find alternative routes
"This intersection is over-used at certain times of the day.
"We are building a new dedicated filter for traffic on Bedford Road and widening the road for a new inner lane to go straight ahead.
"This would help to keep traffic flowing more smoothly in the long term.
"Staff monitoring traffic volumes on CCTV at the road junction during construction can override the traffic light system to keep vehicles moving and cut delays," he said.
He advised drivers to find alternative routes during peak hours because there would be unavoidable congestion.