Northamptonshire expert lifts fingerprints from paper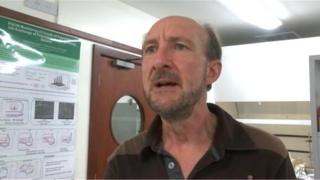 Techniques to identify fingerprints on guns used in crimes, developed with Northamptonshire Police, have been extended to find them on bank receipts.
Dr John Bond, who headed the police forensics department and now lectures at Leicester University, uses ultra violet light to expose prints.
Fingerprints are often found at crime scenes on "thermal paper" used for receipts and cash machine statements.
Previously, chemicals used to enhance prints often turned the paper black.
To overcome this problem Dr Bond developed a heat technique but this was not universally successful as grades of thermal paper varied so much and it was not applicable to all.
Criminals fitting card skimmers at cash machines often picked up statements to get information to access accounts.
Their fingerprints are now accessible using the new technique and the results used as evidence.
Digital image produced
Dr Bond, who lives in Northamptonshire, said: "This new technology offers a new way of easily looking for fingerprints on paperwork that criminals are likely to handle when committing offences.
"When I started researching fingerprint recovery from thermal paper, I didn't realise that not all thermal papers are the same.
"In this latest development the light source provides non-invasive examination of thermal paper and can be carried out very quickly with the minimum of training to locate fingerprints."
The heat system is then applied to capture the fingerprint as a digital image.
The light source can illuminate faint prints to enhance the picture produced, he said.