Paul and Sandra Dunham extradition: Couple's last night in UK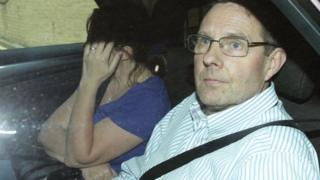 A couple facing extradition to the US on fraud charges are to be flown out of the UK on Thursday afternoon, the BBC understands.
Paul and Sandra Dunham went to hospital a week ago after claiming they had tried to take their own lives to prevent them from being sent to the US.
It is believed the couple, from Northampton, are being held by police at Heathrow Airport overnight.
They had been expected to be extradited on Wednesday.
Solicitor Karen Todner said the Dunham's are a "hard-working couple from Northamptonshire who strenuously deny the allegations against them."
The couple had argued in UK and European courts that they should not be extradited to the US because of concerns about their health and their possible treatment while in custody there.
Asked if enough consideration had been given to the Dunhams' mental health, Home Secretary Theresa May said: "The law now is that the Home Office, the home secretary, does not have the power to intervene.
"These are matters that go before the court and it's obviously for their legal representatives to decide whether they wish to take matters further before the court."
The allegations Mr Dunham faces centre on his time as chief executive and president of Pace, a US company manufacturing soldering irons for the electronics industry.
He was indicted on 13 counts of fraud and money laundering by a grand jury in Maryland in December 2011.
Mrs Dunham is accused of aiding and abetting him. The couple worked in the US between 1999 and 2009.
Authorities in the UK and the US have said they will not comment on the Dunham's case until the extradition has taken place.