Golden Wonder jobs boost at Corby crisp factory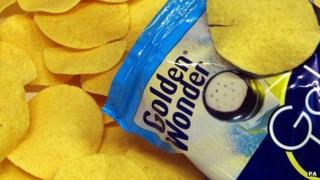 About 60 jobs are being created at Golden Wonder's crisp factory in Northamptonshire.
Tayto Group said it wanted to build a dedicated hand-fried production line at the Corby plant to make more than two million extra crisp packets a week.
It said the investment meant it might also expand to make vegetable crisps.
Corby MP Andy Sawford said he was working to ensure employees from the town's recently-closed Solway Foods plant would be considered for jobs.
Nine hundred people lost their jobs in March after the site was deemed not viable.
Tayto, which also owns the Real and Mr Porky brands, said the multimillion-pound investment would bring its total workforce in Corby to more than 550.
Labour MP Mr Sawford said: "Corby is the manufacturing capital of the UK and Tayto's decision to expand its operations and begin production of a new line of crisp shows confidence in the skills and motivation of local workers."
Tayto bought Golden Wonder in 2006 after it went into administration.