Parties battle for Daventry seats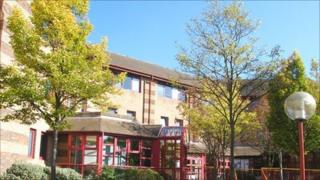 It is believed that the military barracks at Weedon in Daventry were once earmarked as a possible refuge for George III if Napoleon invaded England.
Sadly, Weedon never actually numbered a monarch among its residents. After Thursday, it will be home to a new councillor.
The district council has a large Conservative majority, which cannot be overturned on Thursday because only a third of the seats in the district are up for election.
But Labour is keen to increase its five-strong group on the council.
Emma Collins, Labour's candidate in Weedon said the community was her priority "whether that's requiring the district council to pay a living wage to staff and contractors, or having a heritage strategy for places like Weedon Barracks".
David Smith, who is defending the seat for the Conservatives, said the area is facing interesting challenges at the moment, such as inappropriate development. "Rather than sitting with a pint of beer moaning about it, I decided to try to do something about it," he said.
Chris Salaman is one of only four Lib Dem candidates in this year's Daventry elections. His agent Neil Farmer said: "It's about time, for a change, that the local councils are much more open about the decisions they make. We've got houses being built in places like Weedon and there's no infrastructure to go with them."
John Gale, UKIP's candidate in Weedon, said he is hoping to become their third representative on Daventry District Council. His main concern is central control of local government: "I'm very sad that, over the years, politics has crept into local authority situations. UKIP says local councillors have to decide what to do for local people."
Tom Price, at 86 one of the oldest candidates in the election across the country, is the candidate for the the Trade Unionist and Socialist Coalition. He believes "everybody from working class circumstances is fed up about the way Britain has been clobbered by the Tories, and I'm hoping there'll be a bit of a protest vote for me".
Daventry's election is being held alongside the European poll on Thursday, and the results will be declared during the night.